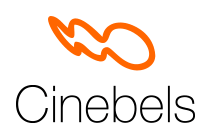 TRUST YOUR HOME ENTERTAINMENT TO US
5000+ HAPPY CUSTOMERS | 100+ EMPLOYEES | SHOWROOMS ACROSS INDIA | 60+ YEARS OF EXPERIENCE
A treasure trove of the finest technology and design in the arena of personalised high-end home audio, home theatre systems, and home automation, Cinebels unravels a whole new universe of cinema, sound, and entertainment.
Exclusive distributors for India for four legendary brands - Klipsch, Onkyo, Pioneer, and Jamo, Cinebels is where the best international brands in the business reside; where innovation is respected; where creative and technical marvels are showcased; where the discerning consumers' need for superior quality home entertainment devices is sure to be met. We believe that the finest home entertainment experience is created by a collaboration of the top brands in each category of equipment. Our state-of-the-art showrooms equipped with multiple experience zones allow customers to get a feel of our reputed brands and products at an unhurried pace.
Our uniqueness lies in the high degree of personalisation we offer, always keeping in mind the individual needs and lifestyle of the customer. Cinebels' end-to-end solutions take care of every detail, right from system design, acoustic advice and selection of equipment to system integration, supply, installation and extensive warranty and support services. Our technical leadership team includes Stanford engineering graduates, and THX certified professionals, and brings decades of collective sound, visual, and technical experience to the table.
Cinebels has been co-founded by Cinerama Pvt Ltd, a renowned name in professional cinema sound and projection equipment in India for over half a century. In keeping with its illustrious legacy, Cinebels speaks for expertise, exclusivity and class.
So whether you are an audiophile, a technophile, an ardent movie buff, or just someone who values high-quality home entertainment, our team of specialists can put together a set of equipment and brands that's just right for you. We invite you to come live the superlative Cinebels experience in home automation and home theatre systems.
Sanjay Agarwal - Director, Cinerama